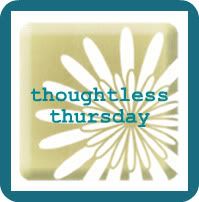 alt="Photobucket" width="125" height="125" />
Cute Katie at Life in the Fulmer Lane started, "
Thoughtless Thursday
".
Here's the deal. Pick a picture
(or a bunch)
of WHATEVER you want. No explanation needed
(but is more than welcome).
My sweet little sister, Katie, texted me this picture the other day! Enjoy!
This is a beautiful front window display from Anthropologie. Can you believe these flowers are plastic bottles cut up and painted?
What are you doing on Thoughtless Thursday?