Tonight, w
e had the pleasure of meeting Dr. Ernest Loosen and tasting the "authentic rieslings from the steep slopes of Germany's Mosel Valley"! Dr. Loosen was n
amed by the Wine Spectator as
"One of the 50 Most Influential Winemakers in the World"

and is locally known for his
collaboration on
Chateau Ste Michelle's Eroica.
We got to
taste the following prestigious rieslings:
Dr. Loosen 2008 Gewürztraminer
Dr. Loosen 2007 Blue Slate Kabinett Riesling
Dr. Loosen 2007 Erdener Treppchen Kabinett Riesling
Dr. Loosen 2007 Graacher Himmelreich Spätlese Riesling
Dr. Loosen 2007 Ürziger Würzgarten Auslese Riesling
Dr. Loosen 2006 Riesling Beerenauslese
Mr. F and I learned about the quality levels of German rieslings.
Photo & info from the
Dr. Loosen wine blog
Kabinett:
The lightest and most delicate style, from normally ripe grapes picked early in the harvest.
Spätlese:
Richer, bolder wines made from riper grapes harvested later than Kabinett.
Auslese:
Very ripe, late-harvested grapes that are selected cluster by cluster.
We learned about botrytis, which is a mold
that draws water out of the affected grapes, leaving an ultra-concentrated nectar behind.
There are also three delicious levels:
Auslese Gold Capsule:
A luscious wine made from very ripe, late-harvested grapes that have just begun to be shriveled by botrytis.
Beerenauslese:
A rich, dense dessert wine made from fully botrytis-affected grapes that have shriveled about half way.
Trockenbeerenauslese:
The pinnacle of dessert wines, TBA is an extraordinarily intense and complex wine made from grapes that have completely shriveled down to raisins.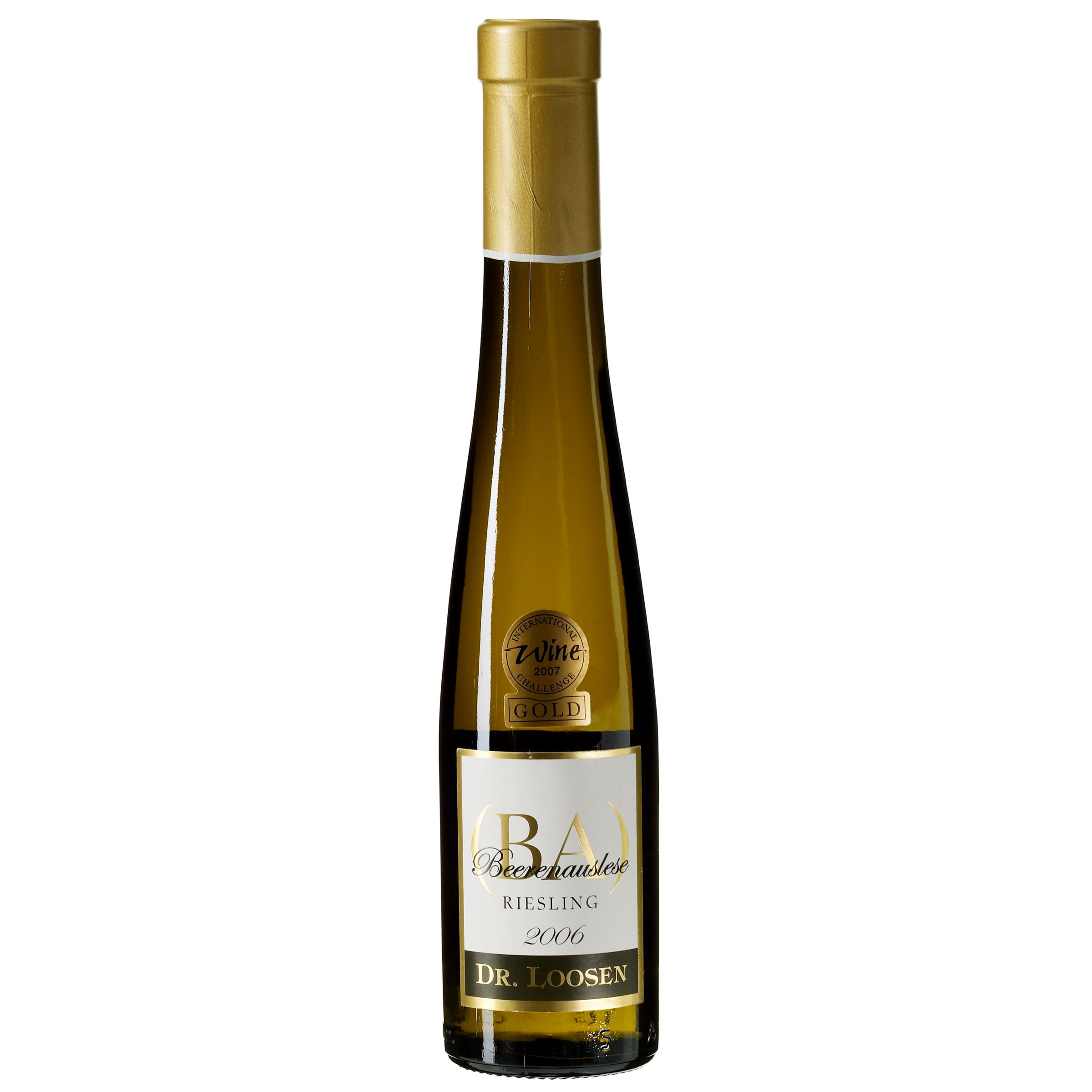 [source]
We really enjoyed the Beerenauslese because it tasted like golden raisins. The acidity balanced the sweetness perfectly. We were told it would go well with salty, blue cheese. We did nibble on goat cheese tarts made by the
Portalis
in house chef. They were very tasty.
The nicest treat was meeting Dr. Ernest Loosen. He was friendly, charismatic, cool and hilarious. After the official tasting he told us his wines would be good with spicy Asian dishes. He told us our favorite riesling, the Dr. Loosen 2008 Blue Slate Kabinett, would be great with gravlax. We had no idea what gravlax was, so Dr. Loosen described it as salmon with dill and sweet mustard.
[Photo from Family.Recipes]
Have you heard of Dr. Loosen before? I highly recommend checking out your local wine store, or perhaps even your local grocery store for Eroica wines! Or if you're lucky enough to live near a great place like Portalis, ask if they can order you a bottle from the wine distributer!