My husband just got an
iPad
! It's so amazing, like a large iPhone or iTouch, but it also reminds me of a flatter, hardcover book. Last night, we had fun streaming videos from
Netflix
, reading the newspaper and Marvel comics, and downloading free books, like
Winnie the Pooh
and
Treasure Island
. I love slideshows of pictures on this screen, especially from Flickr and Kodak Gallery! Flickr and Netflix even have optimized sites specific to the iPad. We just need to find the ideal stand for the iPad now. Mr. F and I agree that a stand that can hold it in a portrait and landscape position would be best. It's mind boggling how fast technology moves, iPhones only came out a few years ago, and here comes the iPad blowing touch screens out of the water! It's so intuitive that even my Dad could enjoy using this computer!
Katie at Life in the Fulmer Lane reminded me it's Thoughtless Thursday: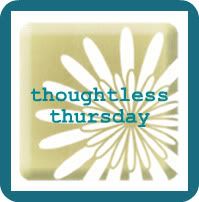 Thus, enjoy more awesome iPad pictures that I love from the
Apple website
!
Doesn't it look like the regular paper newspaper?!
This is what your bookshelf could look like! The Kindle app is also available on the iPad!
I highly suggest looking at the
Apple.com website
or going to your local Apple, or computer store to check one out. They are simply revolutionary!